The social media nowadays are being spammed with all kind of couples' photos, wearing matchy-matchy couple outfits, hashtagged with #couplegoals and other lovey-dovey hashtags.
They just can't wait to show the world how madly in love they are.
However, there is another kind of relationship worth showing off, that is, of course, friendship~??

So when you hang out with your girlfriends, try these cool matching outfits and make the whole wide world jealous of your friendship.
▼ The question is, how to wear it Right and Stylish?
Matching outfits does not mean looking exactly the same, plus, it's so not cool to do so.
What you really want is a subtle, not so obvious kind of matching outfits,
so that each of you can rock your own style but still look harmony when standing together.?
? Beginners ?
▼
– 1 –
The same piece of clothes, different colours.
This is the most common way of matching outfits with friends. Same tops in different colours match with a shorts or skirt of your choice.
Sounds simple, yet it effectively brings out the differentness in the identical outfits.
It's so simple you don't have to think too much about it, just grab two tops with a different colour will do.??
Recommending you this simple Cartoon Short Sleeve Shirt
Its material is comfortable and suitable for Malaysia's weather~??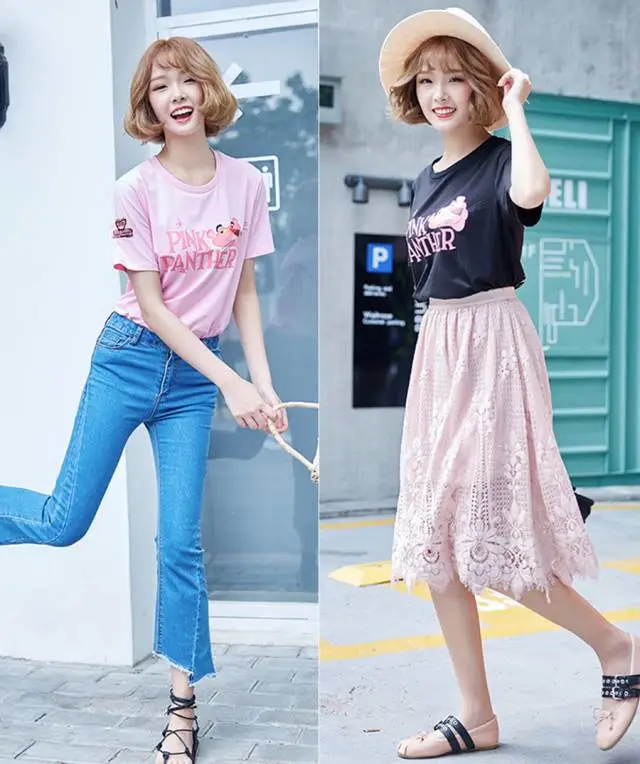 We recommend you to buy????
– 2 –
Same colour, different style
Yes, it will not be less obvious that you and your best friend are wearing matching outfit even if the styles are not identical.
It's actually even flexible to do so since you guys can just wear whatever you like.??
As long as the main colour of the outfits is the same, you guys will look just as matching as it is.
Post a wefie on the social media and everyone instantly knows that you guys are Best Friends Forever.??
We recommend you to buy????
? ADVANCED??
▼
– 1 –
Different shades of the same colour
As said earlier, you and your best friend can wear outfits with the same colour,
but it doesn't have to be the exact same colour tone.??
For example, create a casual look with your friend with black tops and blue jeans?will look matchy
even if they are not the same style or the same shade of colour.??
We recommend you to buy?
– 2 –
Identical style

Birds of the same feather flock together
Friends with the same fashion style rock together
When you and your BFF gets really close, your taste of fashion becomes similar and of course, you guys tend to???the same thing.
Cute bun?Let's do it?
Do you flaunt street style? I'm in!??
▼ Cute teenage girl style? Lady-like? We're in this together!??
We recommend you to buy????
– 3 –
Matching theme
One way of telling everyone "Hey look, we're best friends!" is by wearing outfits of the same theme.
It could be the design of the outfits or the accessories you wear.??
Sailor's striped shirt is the best example.
You don't have to wear the exact same one as your friend but still, look matching.??
We recommend you to buy????
??Pro???
▼
– 1 –
Contrasting colours
If you and your BFF are masters at fashion, you know that matching identical elements are no longer trending.
You should try contrasting colours?
She wears something black, you wear something white;
she wears something light, you wear something dark.
And of course, black and white are still the best matches.??
We recommend you to buy????
– 2 –
Matching accessories
Up your level by adding matching accessories like shades and bags to your OOTD,
not only it's a kind of matching element, it can also PERFECT?your look.??
▼ Try wearing a?Headdress with your friend, or using a Ribbon on your hair to look Cute together?
We recommend you to buy????
? Try these tricks of matching outfits with your BFF
Show it off to the rest of the world
#FriendshipGoals
?

Article Translated from 美丽说
Please follow and like us: